1G
1.12.23 Young Philosophers at Work
Over the past few weeks 1G have been reading "The Owl Who Was Afraid of the Dark" By Jill Thomlinson. Using their previous knowledge of owls and their behaviour, 1G were curious to learn about Plop's dilemma, being a nocturnal creature who is frightened of night time.
The children discussed then listed positive and negative points about the dark in preparation for a "Philosophy for Children" (P4C) lesson. In the session the children unpicked the themes explored by Thomlinson in her book such as; Darkness, Light, Love, Family, Opposites, Fear and Kindness.
Two themes were voted for by the children to debate in the question,
"Although Plop is the opposite to how owls are expected to behave should his mummy and daddy still love him?"
Many ideas were debated in a lively discussion. The children then voted with their feet by positioning themselves on a "for" and "against" line. Some of our young philosophers could see both sides of the argument and remained in the middle.
Well done to all of our young philosophers!
24.11.23 Sorting Mammals
In Science this week, 1G have been learning the characteristics of mammals and have sorted them in different ways. Some children sorted them by habitat, land and water, other children sorted them according to their suitability as a pet! There was a lot of discussion about wild and domestic animals as we discovered some cats, dogs and rabbits live in the wild, while others make amazing cuddly pets!
17.11.23 2D and 3D Shape
Over the past few weeks 1G have been learning the names and properties of common regular 2D and 3D shapes. Through a range practical activities they have explored the number of faces, edges and vertices and whether they can roll, slide or be stacked. Some of the activities were quite challenging, but 1G persevered! Well done everyone!
10.11.23 Barn Owls
This week 1G have been reading about and researching Barn Owls. They have used their reading and comprehension skills, as well as scientific diagram drawing skills to create informative reports and posters all about these fascinating creatures. Working individually and in pairs the children have proved themselves expert ornithologists! Well done!
Please find below the homework grid for Autumn Term 2
25-27.10.23 "Perfect Porridge"
Following in Goldilocks' footsteps, 1G made and tasted plain porridge, before creatively inventing improved healthy options.
1G sorted healthy foods to enhance the flavour of the breakfast favourite, which informed their individual designs for "Perfect Porridge".

The children then safely and hygienically prepared the fruit, by cutting it themselves. Following their designs, the children assembled their ingredients then tasted and evaluated their end products.
Master Chefs in the making!!
19.10.23 Go Well PE Project
IG have enjoyed working with Megan from Go Well on developing fundamental movement skills. Through a variety of team games and activities 1G have developed skills of resilience, team work, balance, throwing and catching. Thank you Megan for your support over the past half term!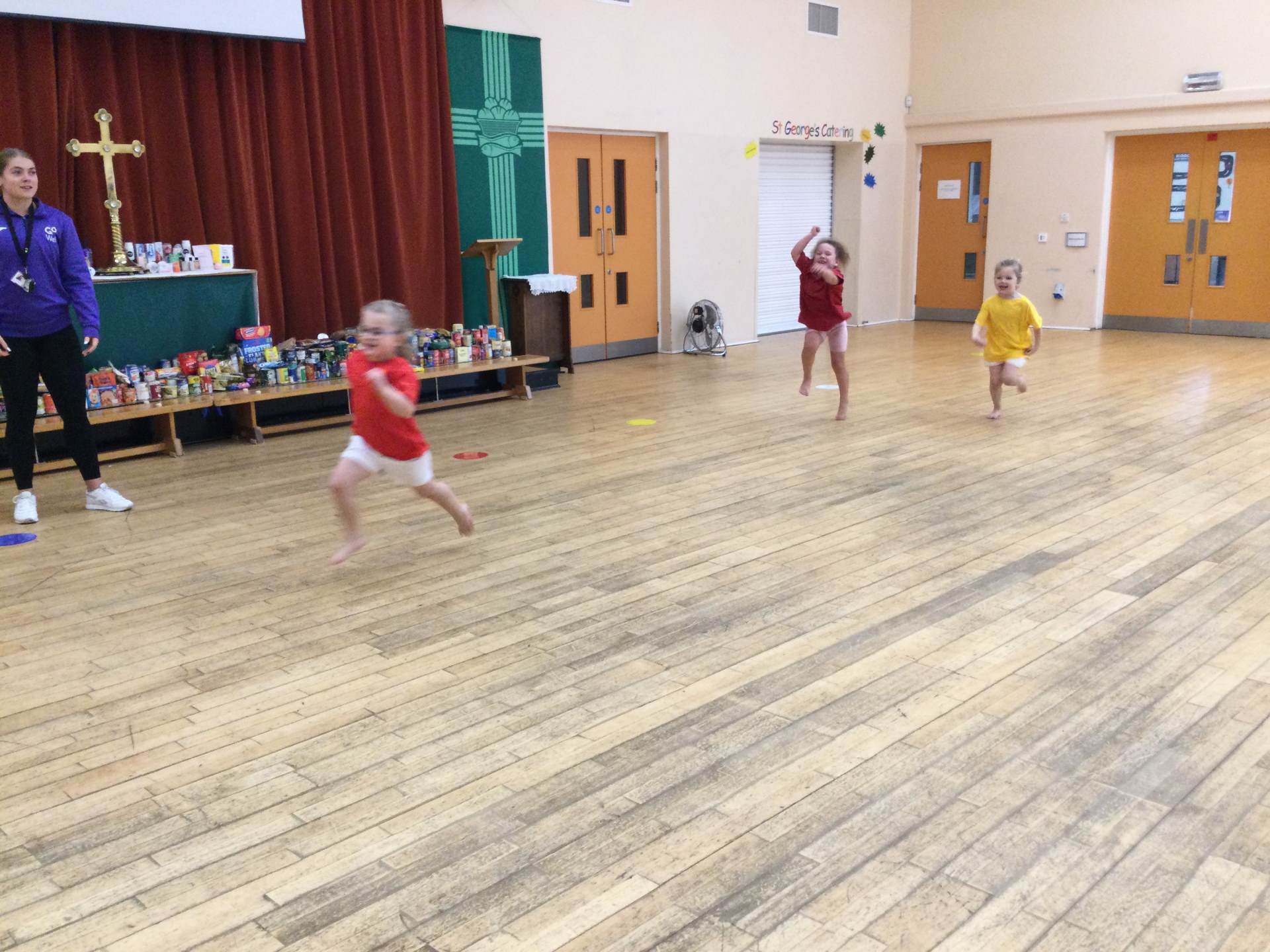 11.10.23 Searching for Signs of Autumn
In Science today 1G searched the school grounds looking for signs of Autumn. They found lots of leaves on the ground in a variety of colours. There were many berries on the bushes too. There weren't any conkers or acorns and we discussed why we didn't find any. Well done everyone!
5.10.23 Observing Autumn Treasures
1G looked very closely at the different leaves, seeds and berries found in the environment that displayed signs of Autumn. Using pencil, crayons, chalk, charcoal and pastels, they explored line, colour, shape and texture.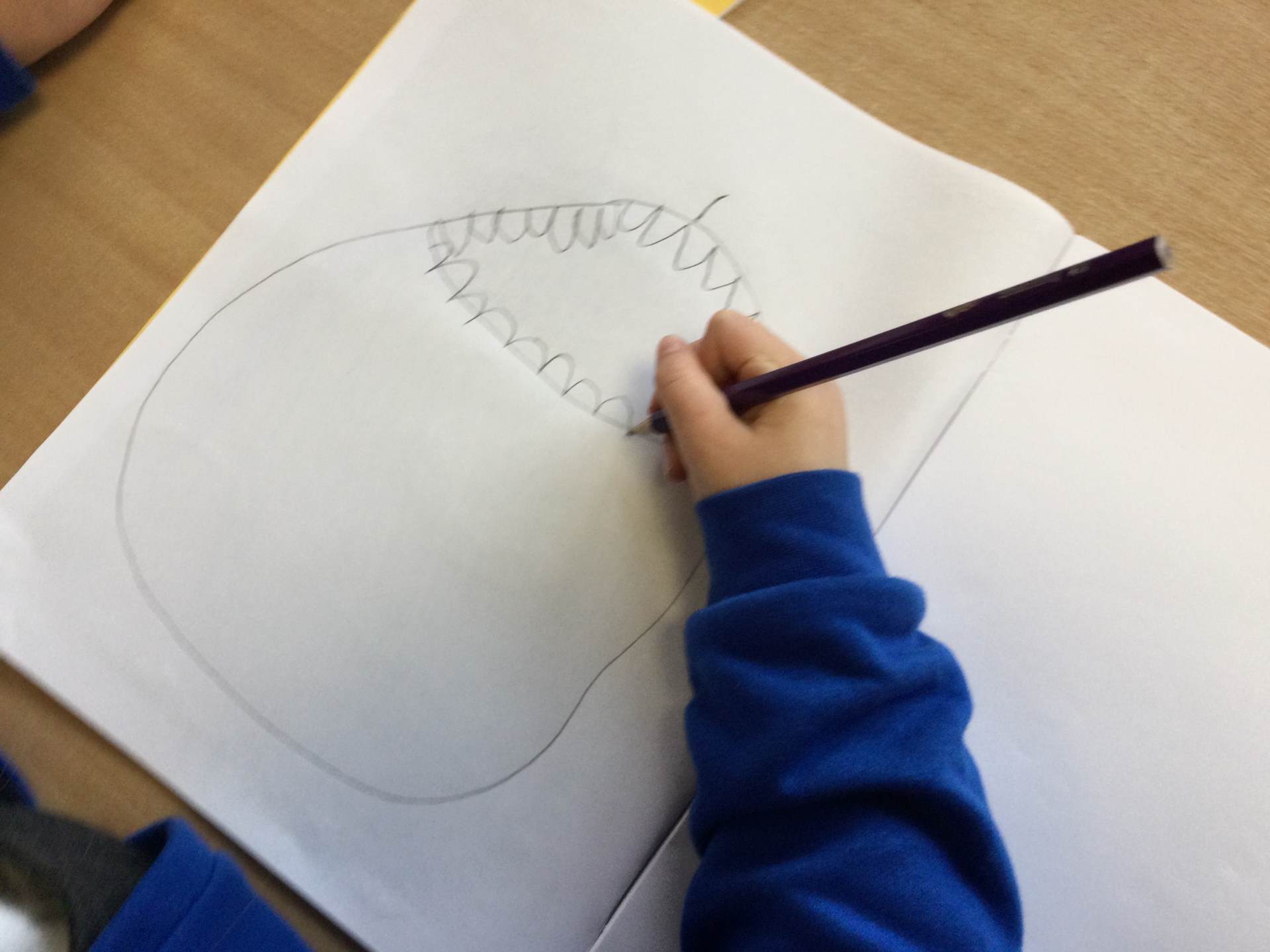 29.9.23 Healthy Heart Day
1G celebrated Healthy Heart Day through exercising and creating designs for a poster. They were able to describe what was needed to maintain a healthy heart, such as drinking water, eating fruit and vegetables and exercising in many ways.
1G Artists at Work!
1G Have been exploring the different lines and marks that can be made using chalk and charcoal. They experimented again with drawing themselves. Well done!
1G Super Scientists at work!
This afternoon 1G went outside to explore the school environment. They looked for many natural forms and living things in a scavenger hunt! They answered questions, such as; "Why did we see lots of leaves but not many birds?" "Where do you think the worms were?" 1G came up with lots of sensible ideas. Well done!
A Fantastic First Week in 1G!
The children have settled in well to Year 1 and have been learning the new rules and routines, as well as practising counting and reading. Each child produced a self-portrait in their new sketchbooks.
Well done everyone!
Welcome back everyone! We are looking forward to working with you all this year.
Please find below our Curriculum Newsletter and Homework for the first half term.
Autumn 2023 Curriculum Newsletter
Summer Term
14.7.23 1G Monster Mash!
The children have been very imaginative, creating their own monsters and writing fantastic monster descriptions. Well done everyone!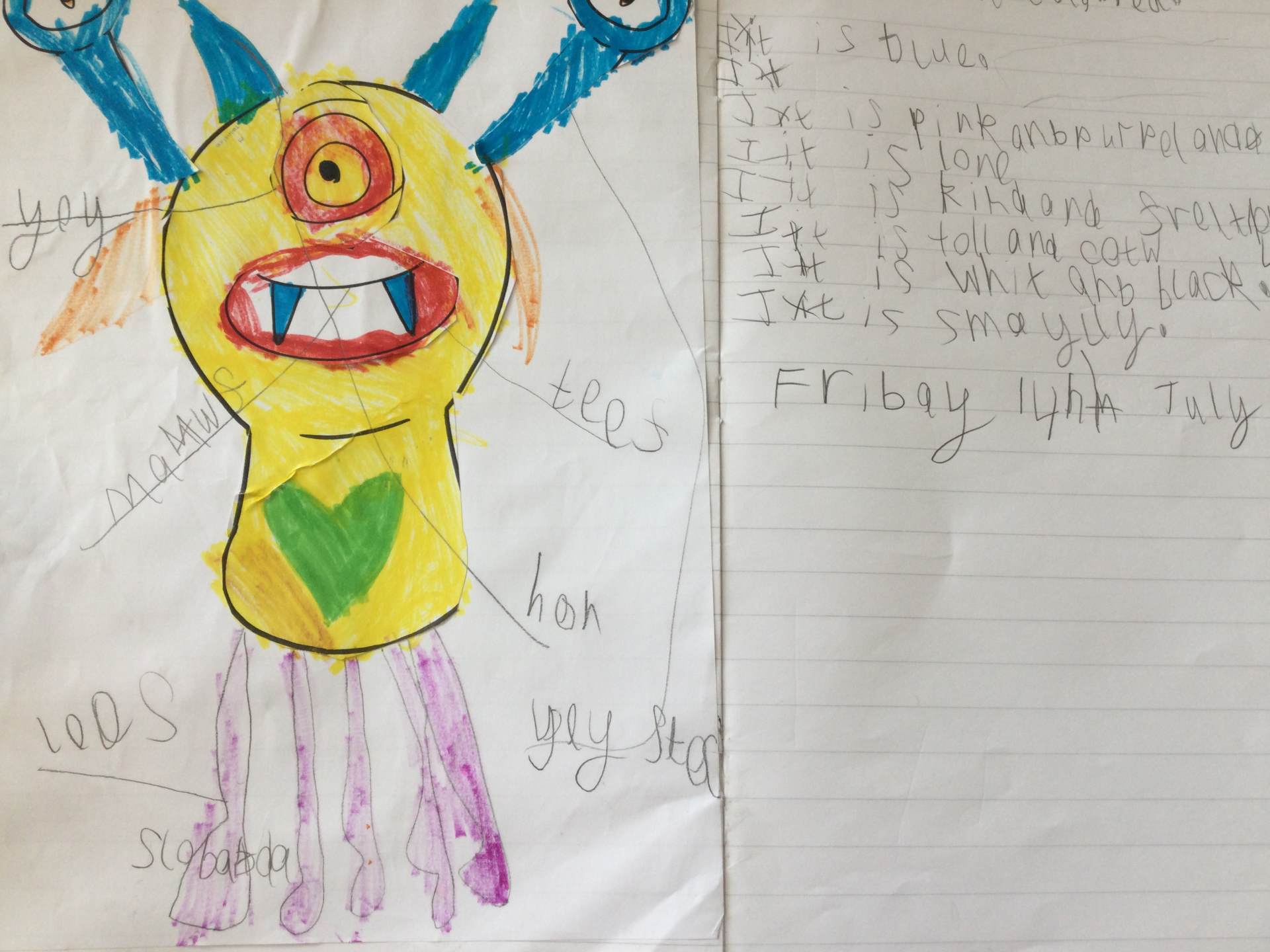 1G's trip to Kirkleatham Museum
First we met Mr Pease who told us about the history of the first passenger railway. We then met Mrs Pease who showed us what people wore to go to the beach in Victorian times. They wore lots of layers!
We looked at many artefacts and enjoyed making shell pictures.
19.6.23-23.6.23 Arts Week
During Arts Week 1G took part in a range of activities based around the theme of "Identity". They worked with students from The Northern School of Art on 2D and 3D art activities, as well as participating in a multi-sensory theatre performance and Drama workshop. They explored portraiture in pencil, chalk and charcoal and through colour-mixing in paint. The work produced is fantastic and we look forward to displaying it in the hall for an exhibition in the near future. Thank you to Jayne Hemmins, Katy Weir and all of the students from The Northern School of Art and well done 1G!
16.6.23 Two Digit Numbers
1G Have been looking at bigger numbers this week. To practise partitioning and recognising 2 digit numbers, we have been using number fans, Dienes equipment and we have played Snakes and Ladders.
Excellent number recognition to 100 1G! Well done!
25.5.23 Science Sensory Carousel
Today 1G explored the Five Senses in lots of different ways. The observed optical illusions, played musical instruments, used a "Feely Box", tasted different drinks and smelled some mystery smells!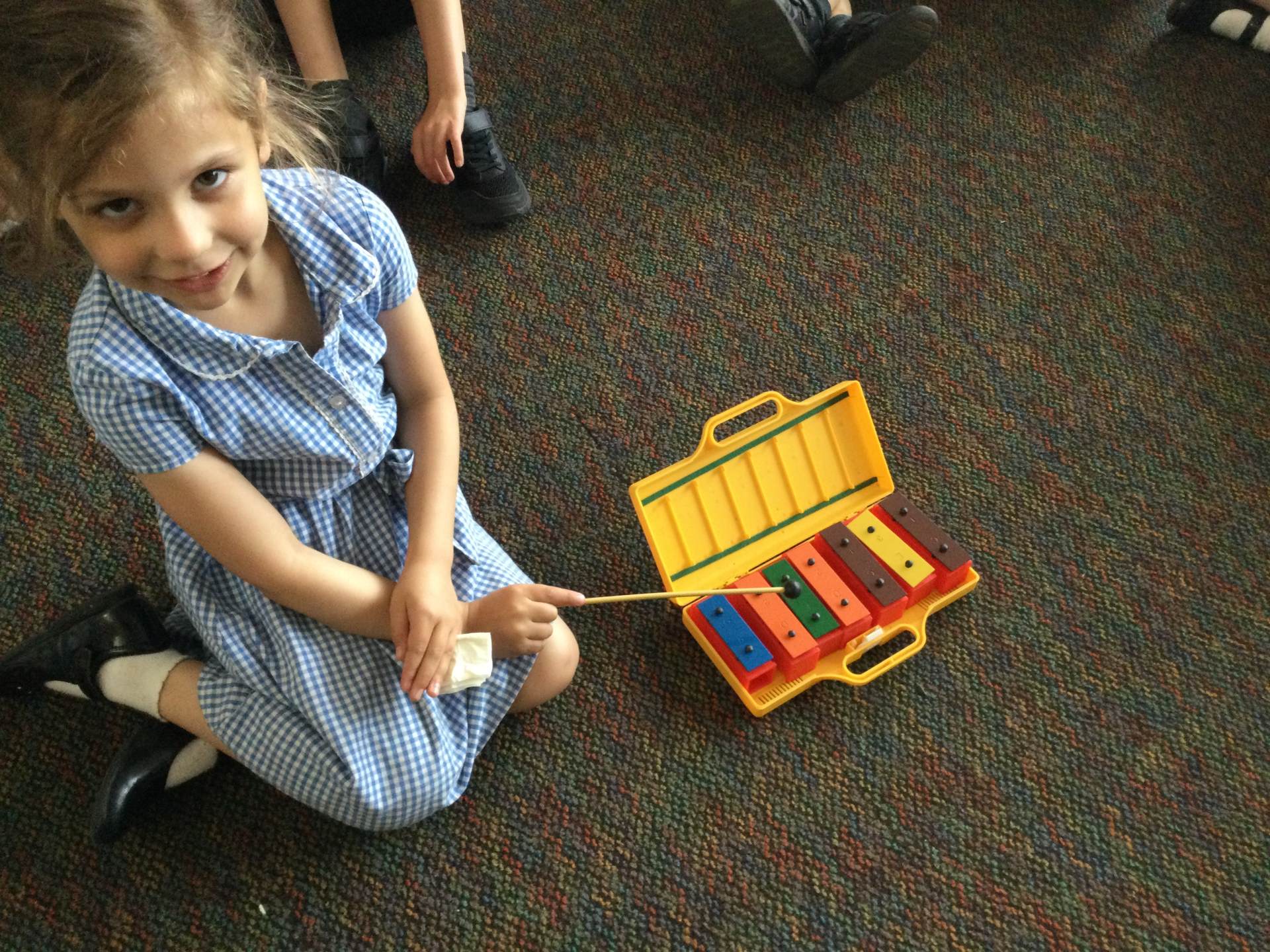 18.5.23 Philosophy for Children
Today 1G used their thinking skills to identify themes in the parable "The Lost Son". Themes included love, forgiveness, jealousy, sadness, happiness, belief and loneliness.
They helped to create a question for debate, "Do the people we love always make us happy?" There were lots of ideas discussed and very thoughtful, mature reflections. Well done young philosophers!
5.5.23 A Creative Collaboration for the Coronation
Year 1 have worked together to create a collaborative Coronation Wreath to commemorate the impeding coronation of King Charles III. Each child decorated a strip of fabric with a royal design that was attached to the wreath. Well done everyone!
28.4.23 Observational Drawing of Natural Forms
Linking with our Geography topic The Seaside we have being looking closely at rocks, shells and fossils that can be found at the beach. We practised our skills of observation, finding interesting patterns and textures and describing them in pencil using different marks.
21.4.23 Welcome Back!
We hope you all had a lovely Easter break. Our new topic is "Oh We Do Like to be Beside the Seaside!"
You will be receiving your new homework grids today and the topic grid is on Class 1G Dojo.
This week in Maths we have been beginning to learn about multiplication and the 2 X table. 1G have counted, danced and played games to embed this important pattern! Please keep practising at home!
31.3.23 Line, Pattern , Texture
All of this term's Art work on drawing and printing has come to fruition in our corridor display. Line, Pattern and Texture have been explored in a variety of media. Well done everyone!
24.3.23 Bowes Museum Visit
Today 1G and all of Key Stage 1 went on their first full day trip out to The Bowes Museum. Many children had never travelled on a bus or a coach before and it had been a long time since the teachers and teaching assistants had ventured out of school on a visit!
We saw many of the wonderful treasures collected by Josephine and John Bowes including some very famous paintings of Venice by Canaletto!
1G used their drawing and observational skills to show details they found in the paintings.
Next we saw the beautiful Silver Swan, but unfortunately it wasn't working!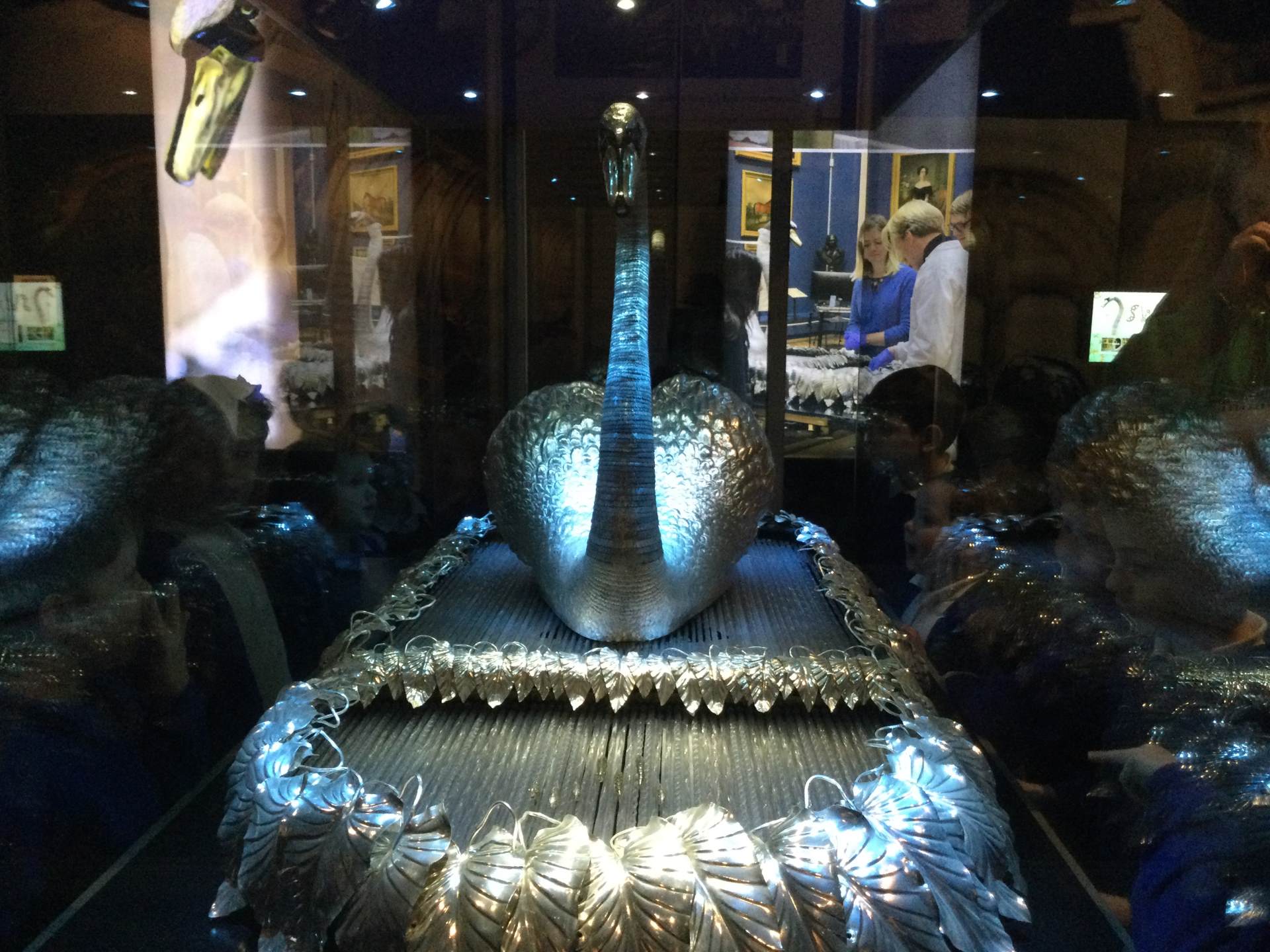 After that, we went into a very special exhibition space called "Modern Makers".
Some of the children's art work was on display there! It was a proud moment to see the name of our school on the wall and our work hanging in a public gallery!
After lunch we learned more about the History of Toys. We found out what materials dolls and teddies used to be made from. Some dolls were made from wax and real hair!!!
We then used a range of materials to create our own miniature dolls.
Then it was time to go back to school on the coach.
It was a fantastic day!
All of the teachers, teaching assistants and adult helpers were extremely impressed by the behaviour, good manners and enthusiasm shown by all of the children. Thank you to all of our adult helpers and a huge thank you to all of the children! Well done 1G and all of Key Stage 1!
17.3.23 Printing!
Over the past week 1G have been learning printing techniques to create
their collagraphs. It was tricky and messy, but worth it! Well done
everyone!
9.3.23
Creating Collagraphs
1G had great fun selecting textures and creating patterns found in materials to create their Collagraphs today. This is step 1 in the process, watch this space for the printing process!
6.3.23
What was life like when you were a child?
That's the question we asked our visitor today. Barbara lives at Middleton Hall and came to tell us all about her childhood.
We were fascinated by the stories of her life as a child during the war. She told us about the toys she played with and what school was like for her. We asked questions and found out lots of interesting information.
We would like to say a big thank you to Barbara.
2.3.23 World Book Day
To celebrate World Book Day, 1G shared their favourite stories, dressed up as characters, read Revolting Rhymes and designed disgusting dinners.
Amazing alliteration allowed us to let loose our love of literature in witty and wonderful ways!!
10.2.23 What a busy week we've had! We went on a village walk and observed lots of lines and patterns in the environment.
We've been printing and drawing to reproduce some of the patterns we found and others from the work of contemporary artist Minty Sainsbury.
To celebrate NSPCC Number Day the children wore numbers and went on a maths trail around school. They had great fun working out which teachers had got the right and wrong answers to the questions!
1G have been learning how to control a robot through using basic code. They can instruct the Beebots to move forward, backwards and to make simple turns. Well done 1G!
Spring Term
Autumn Term
Our Village Walk
On Monday 1G enjoyed a walk in our local area. We followed a route to the park and on the way we looked out for landmarks. We took photographs and used them to draw a map of our walk.