4S
Welcome to our Class page!
Outstanding Autumn Homework
Some of the Ancient Greek buildings, animal habitats and Trojan horses made.

Well done 4S!

Mrs Wallis and Miss Ward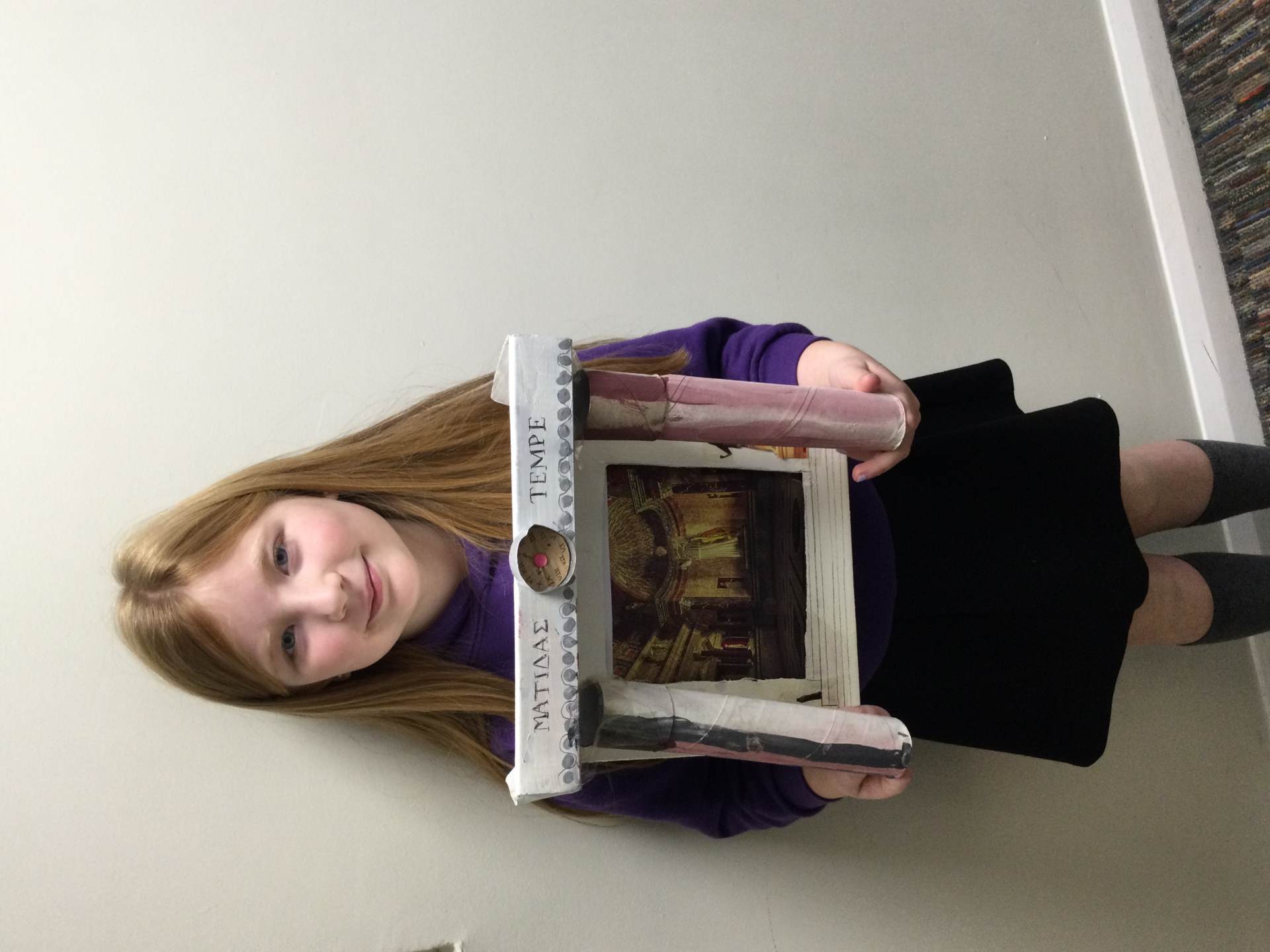 Art and Design
In Art and Design we have been looking an Ancient Greek vessels. The children have been learning about the different moulding, shaping and joining techniques when using malleable materials. Using salt dough the children created a pinch pot, coil pot and handles. Great work 4S!
Music
In music we have been learning about the pulse. The children worked hard to keep the pulse and count the beats. We looked at the importance of music, theatre and poetry to the ancient Greeks. In Greek mythology, we learnt that the nine muses were Greek goddesses who ruled over the arts and sciences. They were the daughters of Zeus, the king of the gods and the Titaness Mnemosyne, the goddess of memory. The children worked hard singing, playing music and even Greek dancing to the pulse!
A warm welcome to 4S
Dear parents/guardians,

We hope you all have had a wonderful summer. We would like to wish you a very warm welcome to the new school year and to Class 4S. We are very much look forward to working with you and your child/children this year
We have attached some useful information for this academic year and the Autumn Term. Please also find attached a digital copy of this half terms homework task sheet. Also our curriculum web for the Autumn Term.
Mrs Wallis and Miss Ward
Homework Task Sheet - Autumn 1
2022-2023
Quidditch
Today the children have been taught to play Quidditch (without the flying broomsticks)! They had great fun learning a new sport that was related to a very popular book.
Art and Design Week:
The children have started the week looking at volcanoes! We have been busy sketching a volcano and studying its formation. The children have also started to make their very own volcano models using paper mache!
12.05.23 Frobscottle
Last week, year 4 looked at instructional writing. They explored the layout features and language used. The children then had the opportunity to make BFG's famous drink, Frobscottle and observe the bubbles going down! Some were even brave enough to drink it.
17.03.23 School trip
Last Friday, children from year 4 went on an historical road trip to Segedunum. Once we arrived at Segedunum we explored the Roman ruins and visited the start of Hadrian's wall. In the afternoon we participated in a recruitment campaign to join the Roman army. We learnt the Army's motto, how to march, protect ourselves with shields and how to use weapons! Every single soldier in year 4 passed the army assessment.
15.03.23 Judo
This morning we had a fantastic taster session in Judo. The children thoroughly enjoyed themselves and the opportunity to try something new!
16.02.23 Kapla Science event
We have had a fantastic morning building bridges- literally! The class participated in a Kapla event which promotes an interest in STEM. The children worked fantastically as a team and were very focused.
14.02.23 Romulus and Remus Playscripts
In English we have been learning about playscripts and the language and structural features used. Today, the children have worked together in groups to create their own playscripts for the Roman myth, Romulus and Remus. The children then performed their playscripts to the class. Great work 4S!
07.02.23 - Mental Health Week
Today in class we shared a story, 'The Invisible String.' A story all about an invisible string of love that connects us to our loved ones no matter how near or far we are from each other. The children thoroughly enjoyed the story and created their own 'Invisible String' showing who they are always connected to.
07.02.23 - Safer Internet Day
To promote Safer Internet Day we have been busy looking at tips on how we can all stay safe while online. We learnt that we should never share our personal information, our location or email addresses. Other tips that we learnt were to never use an image of ourselves online while gaming and to remember to take regular breaks when gaming.
06.02.23
Computing - Recolouring digital images
In Class 4S we have been exploring colour and light within digital images. The children worked hard to edit digital images to change the mood. We created a black/white, brightness/contrast and a hue/saturation version for the digital images.
01.02.23
Gardening
In Class 4S we have been tidying up our gardening area. The children enjoyed weeding, finding carrots and planting spring bulbs.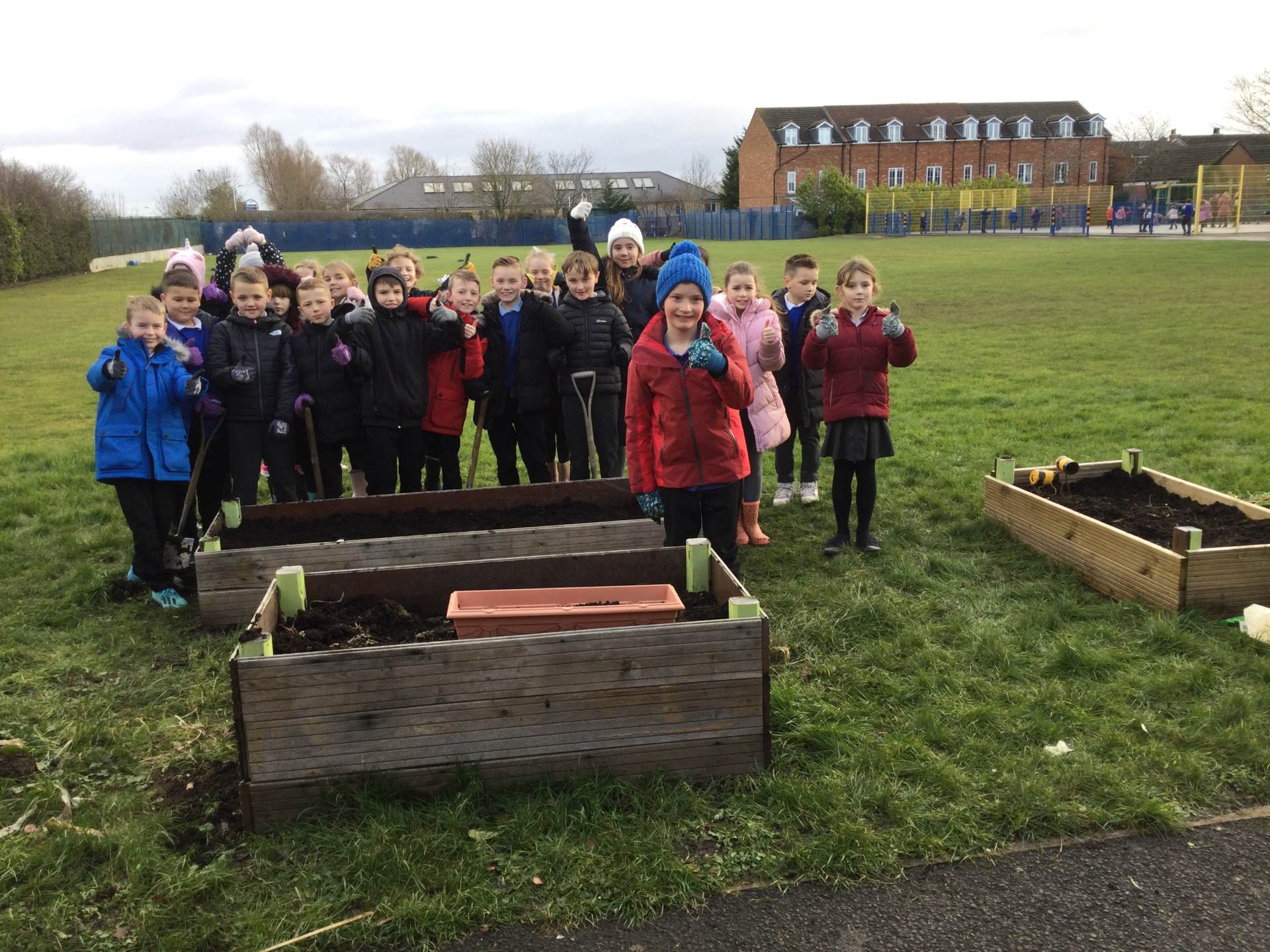 31.1.23
Computing - Changing digital images
In Class 4S we have been learning about photo editing. Today, the children have been busy learning how to rotate and crop digital images using an editing program. The children worked hard to use the software to crop and rotate images. The children thoroughly enjoyed themselves, great work 4S!
16.1.23
Art - Mosaics:
In Class 4S we have been busy exploring Roman mosaics. We have looked at different subject matters, techniques and borders. Here the children are replicating the mosaic process reassembling a modern photograph.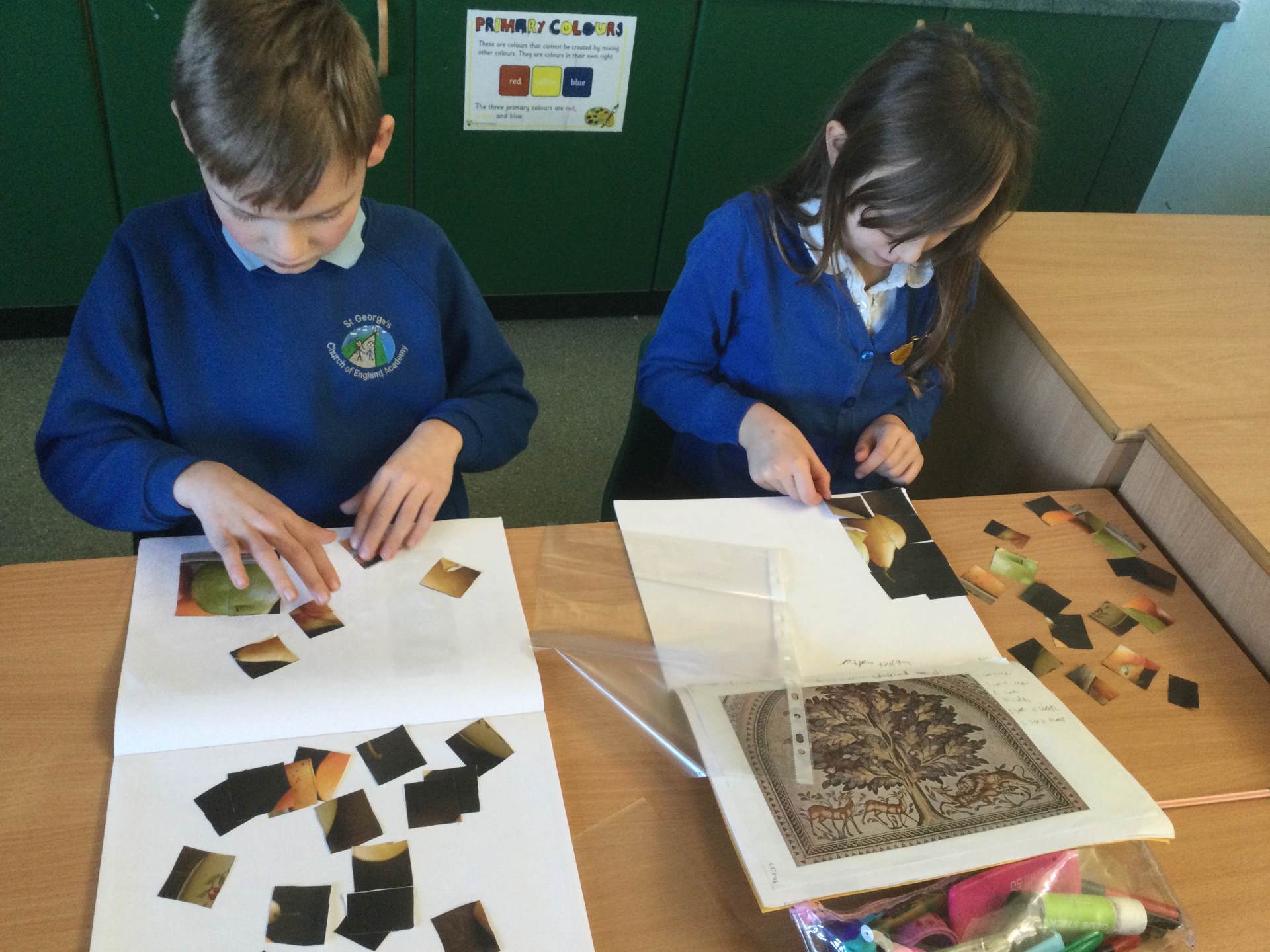 Spring Term
Autumn Term