Science
Science at St. George's Church of England Academy
At St. George's Church of England Academy, our intent is for children of all abilities and backgrounds to believe in themselves as scientists. Scientific learning will encompass expanding the children's knowledge and understanding of the world, and the development of skills associated with Science as a process of enquiry. Children understand what science is, what it is for and how it is relevant to their lives. For example, children will discover how their bodies work and apply this knowledge to keep themselves healthy and make good choices.
It is our intention to develop the natural curiosity of every child and encourage them to use scientific vocabulary to investigate and explore God's world around them in their day-to-day lives. Children will make predictions and test their theories by carrying out practical experiments and observing the natural world. They will gather and analyse data in a variety of methods to draw their conclusions. Children are given regular opportunities to share and present their findings among peers to develop confidence and encourage scientific discussion and debate.
Our teachers are passionate about delivering inspirational and exciting sequences of lessons that embed scientific learning and make links between topic areas. We approach science with a positive 'can-do' attitude, resilience and perseverance. Our inclusive lessons ensure the equality of teaching and that children are exposed to a diverse array of past and current scientists. Children learn to question and discuss science-based issues that may affect their own lives, the direction of society and the future of the world. Our aim is for children to leave St George's Academy inspired and motivated to continue on their scientific learning journey and with a passion to pursue a role in a scientific field.
Progression of Knowledge in Science
Progression of Working Scientifically Skills
Science in the Early Years Foundation Stage
24.11.23 - STEM Acitvity
6S were once again joined by Pam from GMI Construction Company for a brilliant STEM challenge this afternoon.
The children were given cups, a body of water and some sheets of paper. They needed to create a bridge that could withstand weight and hold gems. The children were then challenged to use less cups or try and cross a larger body of water. The children worked together to communicate ideas, problem solve and use elements of science and maths to successfully complete the challenges.
Children from year 5 and 6 had an excellent visit to Teesside Airport alongisde construction company GMI. We were very fotunate being the first school invited to visit the new site and speak with the construction company's Project Manager, Glen. We looked at the site and what the GMI had been building and discussed future plans for the area. We even got to see some aeroplanes taking off and landing as pilots were being trained.
St. George's celebrated World Animal Day on Wednesday 4th October with the theme, great or small, love them all!
Across the school, activities were carried and out it was great to see children learning about how to look after all animals, big or small, and learn which animals are endagered and what contributes to this and how to help.
Year 6 created some fantastic posters raising awareness of animal's rights and how they should be looked after.
Below are some examples of how nursery celebrated.
We celebrated World Animal Day by singing along and dancing to The Animal Boogie with our favourite cuddly animals. Then it was off to paint an animal mask. We could choose which animal we wanted to create a mask for. We also watched Andy's Animal safari and learnt some fun facts about the animals we brought into nursery. At the end of our Nursery session we had a tea party and our animals enjoyed a drink of juice and biscuit too! We had lots of fun celebrating the animal kingdom.
6S had a great time investigating shadows and how distance from the light source can effect their size. The children needed to measure the size of the shadow after incresing the distnace from the light source by 10cm at a time.
We also wanted to show a visual representation of how light travels and how we are able to see things in a mirror's reflection. We used string to represent the straight lines and direction light travels in.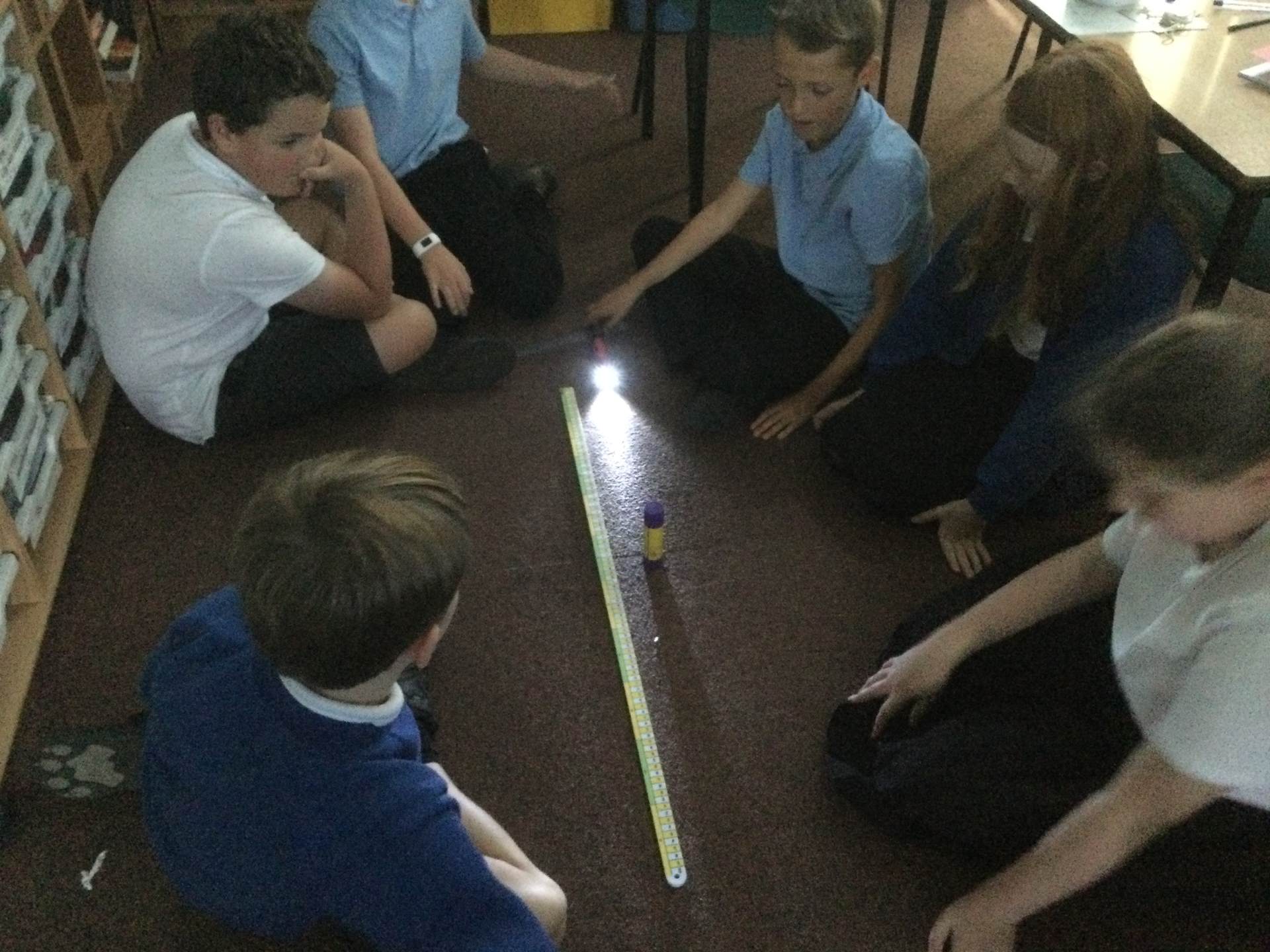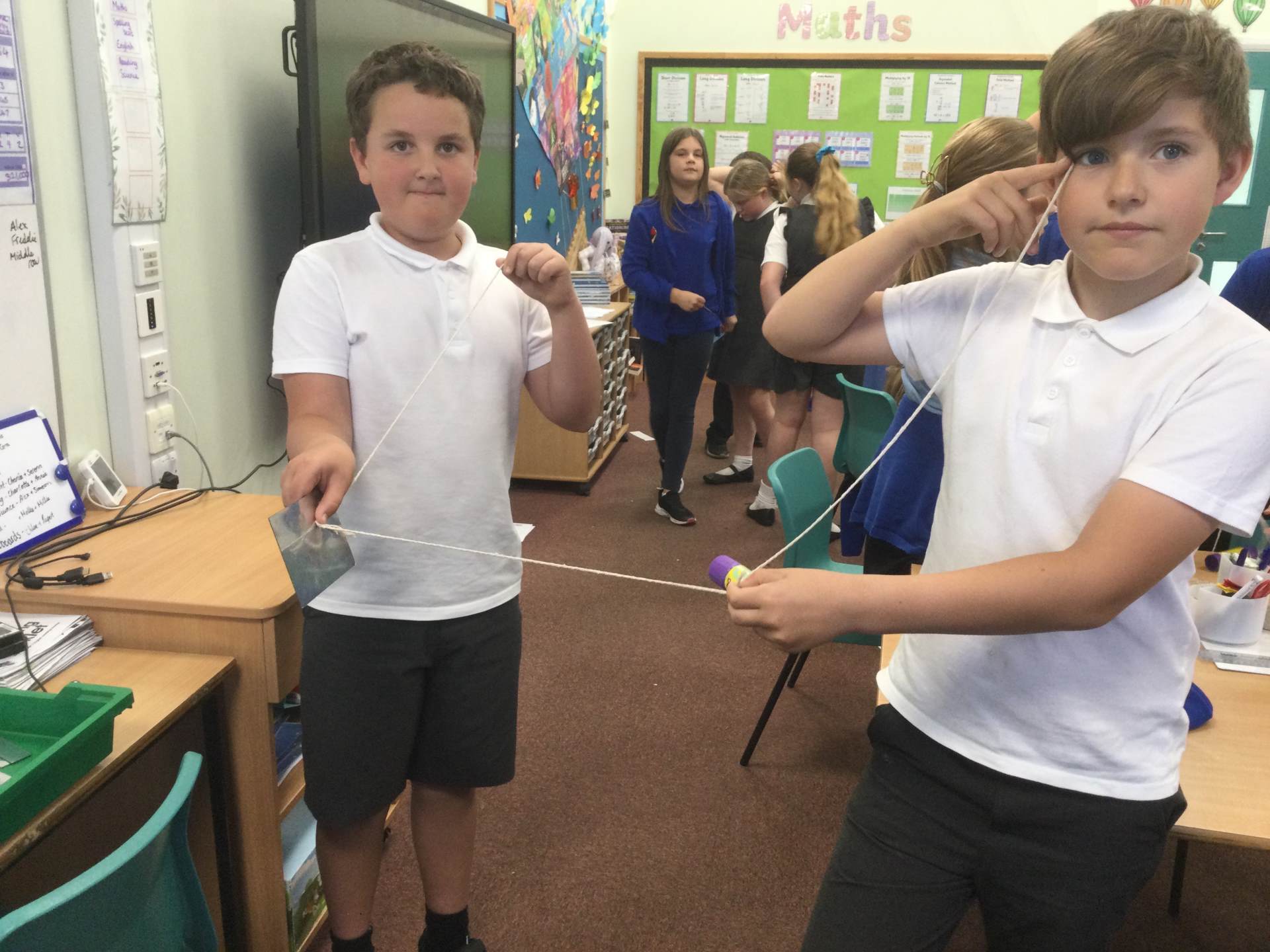 Careers Fayre 18.07.23
On Tuesday 18th July, the school hosted a careers fayre for the Key Stage 2 children. Parents and local businesses were invited into school to talk about their jobs and what it involves and how to get into that line of work. We were visited by the mayor, the fire and police departments, social care teams, unison representitive, Royal Air Force air cadets, scientists, architects and many more. The morning was a great success and the children had a great time and certainly came away inspired.
Careers Fayre.
GMI Construction Visit 08.06.23
Reception and Year 3 had a brilliant time working with Pam from GMI Construction. The children looked at PPE equipment and how it protects people on site. They then used spaghetti starnds and marshmallows to create different shapes and towers. They worked together and independently. The year 3 children had a go at adding more soaghetti to make their structures stronger.
Please use the link below to see pictures of the children enjoying the activity.
https://stgeorgecoea.greenhousecms.co.uk/admin/pages/preview/?PreviewID=64347&pageID=13208&password=
Nursery Celebrating Earth Day
In Nursery as part of our Earth Day Celebrations, we thought about simple and every-day things that we can do or help our mummies and daddies to improve the world we live in and to help our planet become more sustainable.
"Turn off the tap when we brush our teeth." Theo
"Take a bag to the shop." Ava
"I would wear my Superman costume. That would save the planet." Thea
"I can put plastic bottles and tin cans in the bin to be used again." Katelyn
"I would give lots of love to it. We grow vegetables Mummy and me." Molly
"I would plant more seeds because the bees drink nectar out of the flowers to make honey." Lani
"We should turn off the lights when we are finished" Evelyn
St.
George's
celebrated
British
Science
Week! 13.03.23
The
theme
for
2023
is
'Connections'.
Take
a
look
at
the
fantastic
work
that
has bee
n
happening
in
school
by
opening
the
pdf
file
that
is
attached
below.
Enrichment and Extra-Curricular Visits
STEM Trip to Tees Works 27.02.23
On Monday, another visit to the Tees Works site was made. This time, 10 students from year 5 had the opportunity to meet with Andrew from Spark. The children learned about the history of this site and the steel works that were once a huge employer of the area to now and what the future now looks like for the area. The children learned about why this location was a good one for international links and why companies from all over the world were choosing to locate their factories and offices right here in Tees Valley. We were able to research some of the companies and found out the companies specialised in green energy and how this could effect employment in the local area and the knock on effect this will have to the local economy.
Here are some pictures from the afternoon -
STEM - KAPLA Clubs Visit - 15.02.23 - 16.01.23
Year groups 3, 4 and 5 were visited by KAPLA Clubs this week, the children had a fantastic opportunity to build on a huge scale using Kapla blocks. Starting with class 3S, the children began building and had 1 hour to construct boats, an octopus and towers. The next classes then came in one by one and continued to build and add to the project, resulting in a 'mini town' with 2 bridges, 2 palaces, 2 giraffes and much more! The children listened carefully to Jennifer's instructions and worked together to create their structures. This developed their skills in communication, engineering, teamwork, perseverance and mathematics. Parents were invited to come along and help during the workshop and then at the end of the workshop, our project was showcased to the whole school and families and eventually demolished!
For more photos, please follow the link below -
https://stgeorgecoea.greenhousecms.co.uk/News/Galleries/?SSID=2360&password=#GalleryListHolder
Visit from a Scientist 30.01.23
Year 6 classes were visited by Mr Ian Bond to discuss the impact that science has on his occupation.
Ian is a Chartered Environmentalist/Ecologist. He has a wide range of interests in natural history but particularly in mammals. He was the editor of the book, "Mammals, Reptiles & Amphibians of the North East" and has written for numerous North-East newspapers. He has been a licensed bat worker for over 20 years. Recently, he has had a significant role in identifying a species new to the environment and has to use his scientific knowledge in order to do this.
The children discussed how to classify different animals, thinking about similarities and differences between species such as bats, ladybirds and cats. They were all interested in finding out how he was able to identify the white-toothed shrew and the importance of this as the shrew was an invasive mammal and the impacts that this may have on an ecosystem.
MC2215-WhiteToothedShrew_FinalLayout.pdf (mammal.org.uk)
STEM Trip WB 09.01.23
Year 4 children enjoyed a fantastic trip out to Tees Valley this week. The children learned all about how this area, once used to provide thousands of jobs making and shipping steel to other areas. Since this was closed and jobs lost, new industries are beginning to move to the area, in turn creating thousands of new jobs. These jobs will need skilled workers in all different departments. The children were able to learn about the different industries planning to move to this area and the different careers that will be offered here. This trip has also enhanced our cultural capital and the children are looking forward to sharing their new knowledge with their peers.
World Science Day 10.11.22
St. George's celebrated World Science Day on November 10th .This year's theme was 'Basic Sciences for

Sustainable

Development

' so each year group focused on how science, technology, engineering and maths can be used to ensure our world is a healthy place to live as our communities develop. The children in Early Years made their own compost for the school grounds using recyclable materials. Year 1 learnt about how we can look after our school grounds and make good choices. Year 2 learnt about recycling in the home and what types of materials can be sent to landfill. Year 3 studied underground farms in London and how farmers utilise space. Year 4 studied the impact of pollution on towns and planned their own town with green spaces in mind. Year 5 identified single-use plastics and alternative materials. They made posters to encourage people to use the correct materials. Year 6 looked at the global impact of 'fast fashion' and created adverts for sustainable fashion.
Here are some of the fantastic pieces of work that were produced for this special day. They have been brought together in a whole-school display celebrating 'Sustainable Development'.