RG
Welcome to our class page!
Autumn Term 2023
Homework Autumn 2
17.11.23
Another lovely week has flown by in RG. The children continue to impress me with their efforts during phonics and maths. Some have made more space-related models. we have practised counting and subitising 1-5 (including 1 more and 1 less), taken pizza orders and made pizzas in the 'pizza parlour', enjoyed lots of stories as usual and watched an astronaut in space brushing their teeth.
13.11.23
Anti-Bullying Week and Odd Sock Day.
We read 'Monty the Manatee' as part of our work on 'Say yes to Friendship!' We discussed the importance of kindness and the many different ways we could be kind to one another. The children showed good understanding and came up some really great ideas!
10.11.23
Today we marked Remembrance Day. We talked about the people who helped us and all of the brave soldiers and why we use the poppy to say 'We remember'. Here are the wonderful pictures the children enjoyed creating using a range of materials.
9.11.23
Divali
This week we have learnt about the Hindu festival of Divali. We discovered how Hindus prepare for, and celebrate this festival. We learnt a dance, created bright, sparkly Diva lamps, watched fireworks and listened to music.
9.11.23
Darlington Library Visit.
This afternoon, RG had a special visitor from Darlington Library. The children in RG enjoyed sharing the story 'A Shark in the Park', as well as enjoying some nursery rhyme games with a parachute.
Our visitor let us know that we can join the library for free. There are lots and lots of books available and we can get a card that lets us take out 15 books at a time. These can be kept for up to 3 weeks.
13.10.23
Here is a snippet of some of the wonderful learning that's taken place this week!
After sharing the story 'The Lion Inside' the children spoke ideas about times they had been brave and showed courage.
We're so creative in RG and have made some wonderful models (including the Burj Khalifa).
We've found and created our own patterns and have begun developing our sequencing skills using a story map of The Little Red Hen.
6.10.23
This week we have lots of great learning take place. We are doing well with our phonics and Maths, we celebrated World Animal Day and we have baked bread following The Little Red Hen's recipe. This event was much anticipated!
'Who will help me bake the bread?'
'I WILL!' 🐔

We discovered how wheat is planted, harvested, milled into flour then used as an ingredient to make bread.

We mixed flour, water, yeast, salt and sugar together, noticing the different consistencies. Kneading the dough was great for building muscles in our hands and arms. Then we separated the dough to make bread buns before placing them in the oven.
The children enjoyed a taste of 'their' bread (which looked remarkably like buns from the supermarket!) and some said it was the best bread they had tasted.


25.09.23
This week we have retold the story of Rosie's Walk using our positional language. We have been really impressed with the children's efforts. They may be able to tell you what happened to the fox...
22.09.23

The Little Red Hen 🐔


Here are our Little Red Hens! We are very creative. We looked at hen pictures to help us create our individual designs.
We have been orally retelling the story this week with lots of accompanying actions too. We really enjoy this activity!
15.09.23

Week 2!!
What a busy and fantastic first full week we have had together!

Our priorities this week were to…
🌟continue making new friends
🌟trying new dinners
🌟playing and sharing together
🌟listening to lots of stories
🌟painting our self portraits
🌟writing and ordering the letters in our names


5.9.23
Welcome to RG!
Is your bag ready? Uniform ready? Shoes ready? Then so are we.
We are looking forward to our first day in Reception and cannot wait to welcome you all.
Please bear with the team whilst we collate all the permission information required to share photos of our first few days. We will be sending information in paper form in the meantime, so please keep an eye out for letters that will be inside your child's bag this week!
We cannot wait to share this exciting learning journey that we have in store!
02.03.23 - World Book Day!
We have had a lovely day celebrating World Book Day today. The children looked fantastic dressed up as their favourite characters and we even had a special guest who joined us to read a story!
10.02.23 - Children's Mental Health Week
07.02.23 - Safer Internet Day
02.02.23 - Tech Day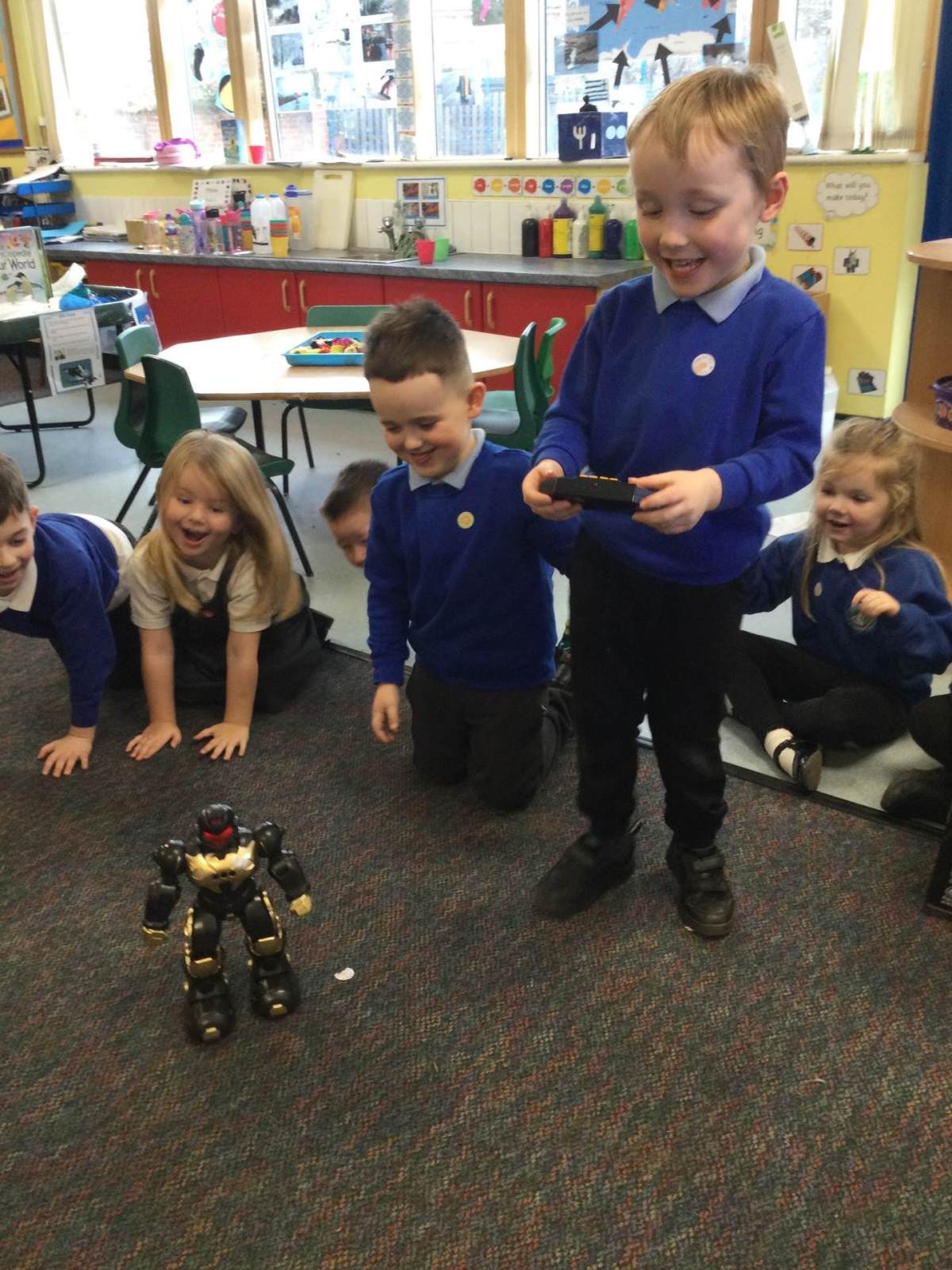 31.01.23 - Picasso Penguins
We have had lots of fun as artists this week, taking inspiration from the artist Pablo Picasso. We experimented with different materials, such as charcoal, to create our own line drawings of penguins.
27.01.23 - Chinese New Year
This week we have been learning all about Chinese New Year. We started by learning all about how Chinese New Year is celebrated and we learnt that in China, their lucky colour is red!
We enjoyed making our own chinese lanterns and decorating them with lots of sparkles! We also had lots of fun making some vegetable spring rolls. We chopped the vegetables, rolled the mixture into the pastry and cooked them in the oven before enjoying them this afternoon. They were very tasty!
17.01.23 - David and Goliath
As part of our new R.E. topic, we have begun learning about some of the stories from the Bible. The first story we have learnt about is the story of David Goliath. In the story, David defeats the giant using only a pebble and teaches us to be brave. The children in RG had so much fun defeating our own giant!
04.01.23 - New Year's Resolutions
It was lovely to welcome the children back to school this morning and see so many happy faces! We have had a lovely first day back.
This afternoon, we have been talking about New Year and what this means. We took part in a countdown and watched of the fireworks. We then talked about new year resolutions and came up with some ideas of things we could try or get better at this year. Here are some of the children's wonderful ideas...
12.12.22 - Christmas Party!
What a fun-filled afternoon we have had at our Christmas party! I was very impressed with the children's dance moves, their fantastic statue skills in musical statues and their turn-taking during pass the parcel. A lovely start to our last week of school!
09.12.22 - How To Catch a Star
RG have had the best time on their trip to the theatre this morning to see a performance of 'How to Catch a Star' by Oliver Jeffers. The children behaved exceptionally and made me very proud!
I would also like to say a very big thank you to the adults who joined us on our trip. The children thoroughly enjoyed having you there!
05.12.22 - Library Visit
Today we had a very special visit from Emily from Darlington Library. Emily read us all a brand new story and then we sung some nursery rhymes and played some exciting games. I think the smiles on our faces show just how much fun we had! Thank you Emily!
10.11.22 - World Science Day
Today we have been celebrating World Science Day. This year's theme is 'sustainability', so we decided to make our own compost bottles using recyclable materials. We talked about why it was so important to recycle and reuse the things we no longer need, before making our compost bottles using recycled plastic bottles, orange peel, banana peel, newspaper, soil and used tea bags. We will leave our compost bottles outside until the compost is ready and then we will use it to plant something exciting!
04.11.22 - Diwali
This week RG have been learning all about the Hindu Festival of Diwali. Diwali is known as the 'festival of lights' and is all about celebrating new beginnings and the triumph of light over darkness. As part of our learning, the children have enjoyed creating their own rangoli patterns, making Diwali cards, creating diva lamps and learning all about the story of Rama and Sita.