RS
Welcome to RS 2023 - 2024!
17.11.23
Children in Need

Thank you for all your contributions…RS alone raised a cool £30! 💛
15.11.23
Rocket 🚀 Models

One of the children reminded me that "teamwork makes the dreamwork" yesterday 😂….so we experienced exactly what being in a team meant when we worked in pairs or a group to create our junk model rockets! We all really enjoyed the freedom to create using the knowledge we have recently gained about space travel. All rockets are proudly displayed in our classroom.

Good job RS!
13.11.23
Anti-Bullying Week - Odd Sock Day
We have used this week to focus on the acts of kindness that we can show to others. We shared a story called, 'Monty the Manatee' to talk about kind gestures and words. We then designed our own odd sock and thought of kind words we can use to one another.
10.11.23
🪔 Diwali - Festival of Lights

This week we have been learning about the Hindu festival of Diwali. We have learnt how Hindus prepare and celebrate this festival. We have created diva lamps, listened to music, danced, watched fireworks and produced firework pictures as well as making some sweet treats to try.

All good fun!
09.11.23
A Special Visit 📚

For a class who loves their books and singing…a visit from a member of library staff was perfect!

We have learnt that a library has lots and lots of books for free! We are lucky because our Darlington library has had a modern makeover and will give us all a library card for free on our visit. We know that we can take 15 books out at a time and keep them for up to three weeks!

We listened to a familiar story…"Shark in the Park" and were able to help with the actions and familiar phrases. We then played pass the parcel…and each time the music (our singing) stopped we pulled out a character of a song that was familiar to us. We sang The Grand Old Duke of York, Humpty Dumpty and Baa Baa Black Sheep and Wind the Bobbin Up.

Finally we played a game with pink lycra, singing even more songs but it was so fun because different characters appeared on top of the lycra!
09.11.23
Remembrance Day

This week we have been learning about Remembrance Day. We have learnt about the history of Remembrance Day, why we wear poppies, held a two minute silence and listened to "The Last Post." We have also learnt about what it means to be thankful and why we thank soldiers.

Above is a sample of our poppy artwork that we created using a dot method.


05.10.23
Who will help me bake the bread? I WILL 🐔

We've had so much fun leading up to this moment….where we were able to bake our own bread just like the Little Red Hen.

We have discovered how wheat is planted, harvested, milled into flour then used as an ingredient to make bread.

We enjoyed mixing flour, water, yeast, salt and sugar together, noticing the different consistency. We loved kneading the dough using our strong fists. We then pulled the dough apart to make 6 bread buns before placing them in the oven.

The children ate a sample of "their" bread in seconds!

(Pssst Mrs Gent visited Sainsbury's this morning for 6 fresh buns…to minimise spreading germs! And also apologises for some floury uniforms tonight 🙈)
04.10.23
World Animal Day
We've earnt our…We LOVE Animals Badge! 🦁

It's been a lovely day celebrating World Animal Day.

Using our own pets/soft toys really enhanced our learning.

We have enjoyed sorting our animals into groups according to different criteria such as 'dogs / no dogs', 'live in water / don't live in water.' Due to the children's responses we were also able to add in a cross over category because some animals were both in criteria's, for example those animals that we would love on a farm / don't live on a farm or actually we may find on both! We were able to explore lots of combinations and share facts with each other.

We then thought about how we care for our animals, how to draw animals using basic lines and this worked towards everyone earning their 'We LOVE Animals Badge.'

Good job RS 🐷🐯🐒🐥
22.09.23
Magical ME 💫

We have thoroughly enjoyed sharing our All About boxes! We have enjoyed learning about key family members, pets, likes. Sharing information helps promote our communication and language and social development...and this activity is a great way to do that.

Thank you for your overwhelming contributions, they have helped create a lovely display in our classroom. 😊
22.09.23
The Little Red Hen 🐔

A small selection of our own Little Red Hens! We are a very creative class...we love to draw, paint, create models using different media which is keeping lots of us really busy each day.

We have been orally retelling the story this week with lots of accompanying actions too. We really enjoy this activity!
15.09.23
Week 2!!

What a busy and fantastic first full week we have had together!

Our priorities this week were to…
🌟continue making new friends
🌟trying new dinners
🌟playing and sharing together
🌟listening to lots of stories
🌟painting our self portraits
🌟writing and ordering the letters in our names
🌟drawing the important people in our lives!

A long list of achievements!

Next week we will start our specific Literacy and Mathematics lessons each morning!

Have a great weekend,
Mrs Gent 😊
05.09.23
Welcome to RS!
Is your bag ready? Uniform ready? Shoes ready?
Then so are we! We are so looking forward to your first day in Reception and cannot wait to welcome you all!
Please bear with the team whilst we collate all the permission information required to share photos of our first few days. We will be sending information in paper form in the meantime so please keep an eye out for letters that will be inside your child's bag this week!
We cannot wait to share this exciting learning journey that we have in store!
12.06.23
Wharton Park 2023 🌳

Thank you to all our volunteers for accompanying us to Wharton Park today.

Although very warm…we managed to squeeze in:
🐛 Play in the park
🐛 Bubbles
🐛 Mini-beast hunt
🐛 Hungry Caterpillar trail
🐛 Butterfly craft

Florrie even found a real very hungry caterpillar to supplement our day perfectly!

Mrs Gent 😊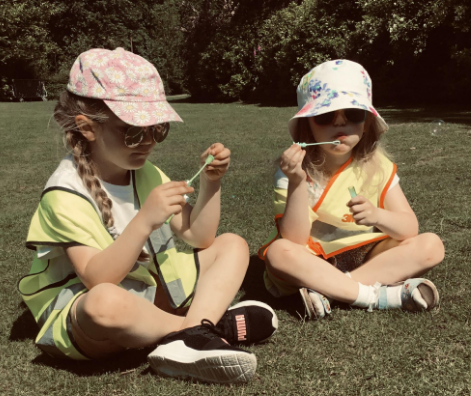 08.06.23
STEM Workshop

We had a lovely morning with GMI Construction Group.

We used spaghetti, marshmallows to construct 3D shape.

The children worked as a team to think of ways to connect and strengthen their shapes.

👷‍♀️
21.04.23
Earth Day
In celebration of our planet, we have been learning about the ways in we can help protect our planet. We have used fiction and non-fiction texts to explore this and have made our own note of how we can look after our planet using the information that we have gained.

Many of the children were able to reflect on the things that they or family members do already to protect our environment.

Take a look at our useful notes 💚
31.03.23
EASTER
This
week
we
have
focused
upon
how
Christians
prepare
for
and
celebrate
Easter.
We
have
a
good
understanding
of
the
key
events
of
the
Easter
Story
and
have
explored
these
through
story,
animation,
role
play
and
the
sharing
our
own
thoughts,
feelings
and
ideas.
Here
are
a
selection
of
photos
from
our
celebrations…💜
17.10.23
British Science Week

This week we have continued our map work. We have looked at examples of paper and digital maps in their many forms. In celebration of British Science Week we used our maps as a way of exploring our connections with our community.
They look wonderful - child led all the way!

We also had some wonderful posters that were created as part of our home learning activity! 👍🏻 🗺
10.03.23
International Women's Day 2023

On Wednesday we explored the achievements of women. We started the topic using the book, "Girls Can Do Anything." We thought about the jobs we might like to to when we are older - so many Ballerina's🩰 in our class!

We then focused upon the life of Beatrix Potter which was really popular. We learnt some basic facts about Beatrix's life and created our own artwork using the book characters she invented. Due to the characters being intricate, we traced over them then added water colour!

They look spectacular. 🖼 🎨 🖌


10.03.23
We thoroughly enjoyed our time in the snow this morning…I've never been part of such a big snowball fight 🤣
02.03.23
World Book Day 2023 - A lovely morning sharing stories with our parent volunteers and teachers!
10.02.23
Children's Mental Health Week 🧠

As part of our exploration and celebration of Children's Mental Health Week, each class has developed their own 'Calm Area', here we have added a few extra resources to our existing space. We feel it is important that the children in RS develop independence in identifying and using coping strategies to promote their emotional well-being. Important foundations in supporting their mental health both now and in the future, we all learn together.

As a school family, we began thinking about the theme 'Let's Connect' as part of Children's Mental Health Week. We listened to the story 'The Invisible String' written by Patrice Kars where we shared the importance of always being connected to those that we love.

After reading 'The Invisible String' we talked about how we are all connected to our loved ones by invisible string, we drew our loved ones and created hearts to share with you at home. It was an emotive piece of work for us, so lovely to hear all the wonderful people that shape our young people and a great metaphor to remember on the days we may be feeling a little blue 💙
07.02.23
Safer Internet Day 2023 👨‍💻

This Tuesday we participated in Safer Internet Day. It is important to start talking to children about keeping safe in our ever growing online world. We do this little and often as we use and come into contact with different technology. This day was another opportunity to highlight these conversations, sharing our favourite games, what we like to use the internet for, as well as the actions we can take if we don't like something we see/discover online.
03.02.23
Thank you all for supporting NSPCC Number Day 2023 🌟
02.02.23
Tech Day 🧑‍💻

We had a lot of fun sharing a wide variety of technology yesterday! We have a lot of confident children who were able to articulate and manipulate their technology with ease. Lots of the technology worked in different ways, was button lead or touch screen. It was great to see the children teach the teacher and enjoyment in sharing their toys with others. ✅

27.01.23
Chinese New Year 🧧

Our celebrations this week have been enjoyed by all. We have enjoyed learning about, 'Chinese New Year', a Spring Festival. We have participated in traditional Dragon and Lion dances..making our own dragons too. We have been learning about the Zodiac and ordering the animals from 1-12. Part of our learning has been about the gifts that are given at this time - red envelopes of money, oranges and cards. The children were really enthused when making their own vegetable spring roll!
It has been lovely to share some of the experiences of our class members where they have visited museums or tried new foods this past week. 😊
09.01.23
🐧 Penguin Art!

Last week…even in just three short days…we immersed ourselves in our new topic! Here we produced some wonderful mixed media penguin art. We have used pastels, chalk and charcoal to produce this lovely huddle! 👏🏻
/51674a490240.mp4
Dec 12
Party Time 🎉

I'm sure everyone will sleep well tonight after one of the most energetic parties I have been to! Plenty of party games, Christmas fun and snacks were had this afternoon! 🎅🏻
Dec 9
A safe trip to the Hullabaloo & back! 🌟

We had a great trip to see How to Catch a Star! A wonderful end to the week. I'm sure the children will tell you all about it tonight! Now it's time for a snack and a drink!

A huge thank you to our trip volunteers…I think it's the smoothest trip I have ever lead 😅.

Have a great weekend,
Many thanks,
Mrs Gent 😊
Dec 6
🌟 The Stars of Wriggly Nativity 2022 🌟

Now that we have completed both performances…on behalf of all of the EYFS staff we would like to say a huge thank you to your wonderful child for being a star today! To perform on a stage in front of a huge crowd is nothing short of amazing! From the singing and dancing to the acting - we all shone so brightly! Congratulations RS on two cracking performances 🙌🏻 🌟
Dec 5
Library Visit 📚

This morning Emily from Darlington Library came to visit RS. We listened to a new story, sang some songs and played some games. We also know that we can borrow up to 15 books from the library for FREE!
Our listening skills wasn't us all a special gift which is being kept safe in your child's Christmas folder.

Mrs Gent 🎄
Nov 18
Anti-Bullying Week 2022- 'Reach Out' 🌟🤝

This week in RS we have been looking at the different ways in which we can be kind to each other and who we would ask for help if we thought someone was being unkind to us or someone we know.
We have read the book 'One' by Kathryn Otoshi, then as a whole class we discussed ways in which we can be kind to others. We wrote our ideas down on our handprints and have stuck them in our PSED book to show everyone our ideas!
We have also made our very own odd socks to display in our classroom, which show who we can reach out to if we feel like we need a little bit of help or someone to talk to ☺️
Nov 11
Lest We Forget

Today we have been learning about Remembrance Day.

We attended the school remembrance service and were exceptional at observing the two minutes silence. This morning we have also created some artwork using the symbol of the poppy.

This will be coming home tonight 🎖
Nov 10
Magic from Muck!

Today is World Science Day, with the theme 'Best Sciences for Sustainable Development.'

To compliment this day we have created the beginnings of compost in a bottle. We have been learning about the importance of recycling and how we can use some things that we no longer want or need to make something else that is useful.

Here we are layering a range of recyclable materials - soil, teabags, news paper and fruit/veg peelings.

We know that we need a lot of patience for this process to happen as it may take a few months! But we certainly enjoyed the activity. ♻️
Nov 10
We are really enjoying our Move with Max sessions with Ben. This morning we enjoyed learning to work as a team, following rules. We played another set of Under the Sea games where the children and teachers led the games. We were practicing running, jogging and walking in different directions, dodging, aiming, taking turns and following instructions. We now know how to move around safely by opening our eyes and keeping our heads up to see around us.
Well done RS 🌟
Nov 4
RS have thoroughly enjoyed learning about Diwali, the Hindu Festival of Lights. As part of this learning we have been engaging with key activities that are pertinent to this festival such as the creation of greetings cards, Rangoli patterns, acting out the story of Rama and Sita, creating small lamps called divas as well as listening to and watching firework displays. 🪔 🎆 🎇
Nov 3
Bubble Printing Firework Creations 🎆
So much fun has been had this afternoon with a little bit of paint, washing up liquid, water and glitter!
Oct 22
Soup Den - Tasting our delicious soup after harvesting our vegetables and chopping them finely.
Oct 21
RS were really enthused by the life cycle of wheat to make bread! 🌾 I bet when questioned they will be able to tell you soooo much!
Here we are crushing our own wheat grains to make flour and also creating our own dough. Mrs Gent cooked the dough and we made a batch of 8 buns - which went down a treat! 🍞

One thing I have learnt over the past few weeks is that the children in RS LOVE a story, so it is great to be able to share new titles with them all.

Thank you :-)